MAGFAST Extreme is a beast!
It is a super-charger with enough power to keep you going for days, and the world's first with THREE Qi wireless charging ports.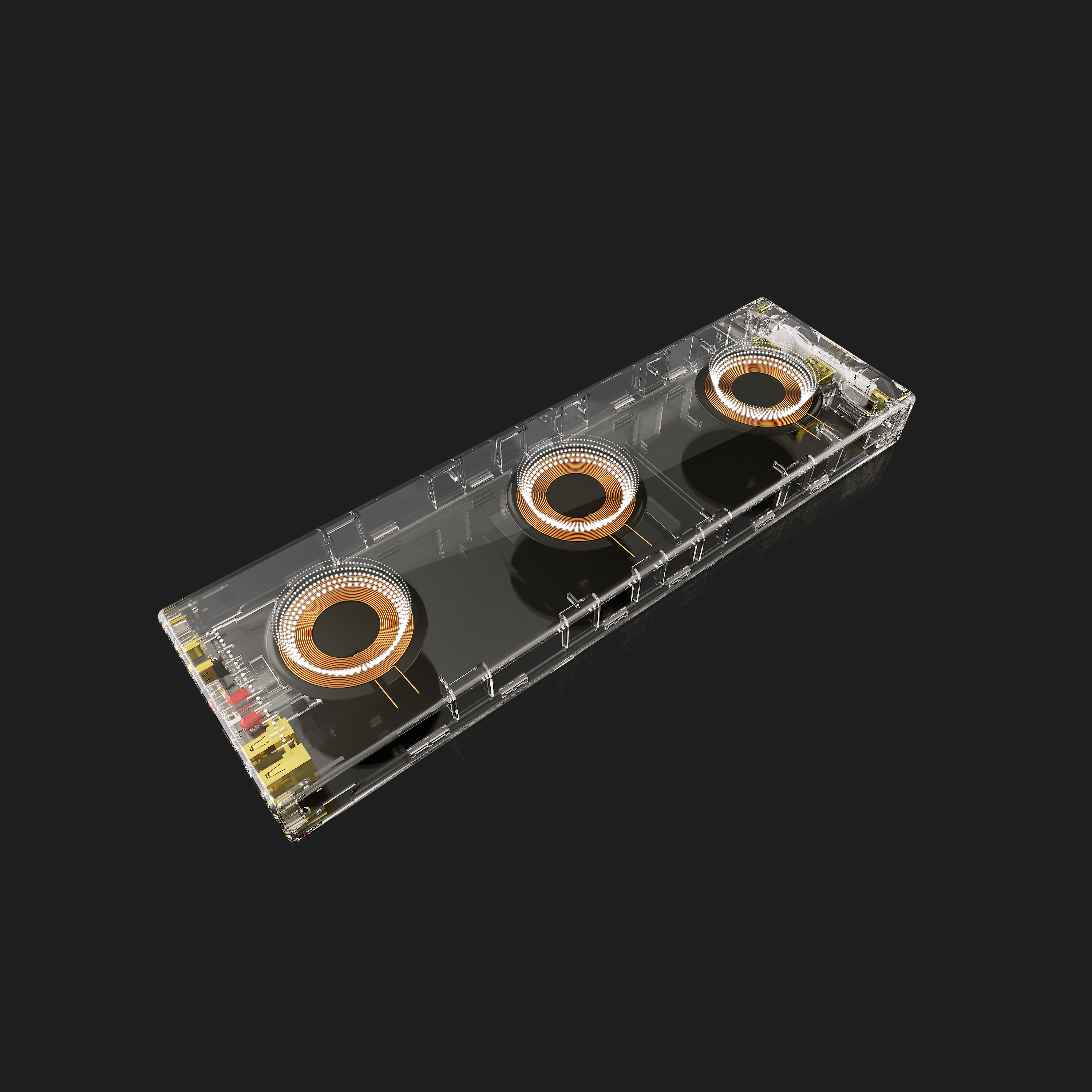 It's a beautifully designed and meticulously engineered multi-function charger and battery pack in sleek, slim casing. Extreme is the ultimate combination of power and flexibility: it's a great big battery pack that has the capacity and the range of outlets to recharge your phone, your MP3 player, your tablet again and again.
Extreme is one power source to charge multiple devices simultaneously. Extreme has lots of ports, lots of ways to charge (and lots of ways to be charged). We expect that Extreme will allow you to charge up to three mobile devices on Qi Wireless, another three on USB-A and two more on USB-C. Extreme will sort out the power required for each, and while it's unlikely that eight devices will all charge at full speed, Extreme will give each device the maximum power (Watts) available.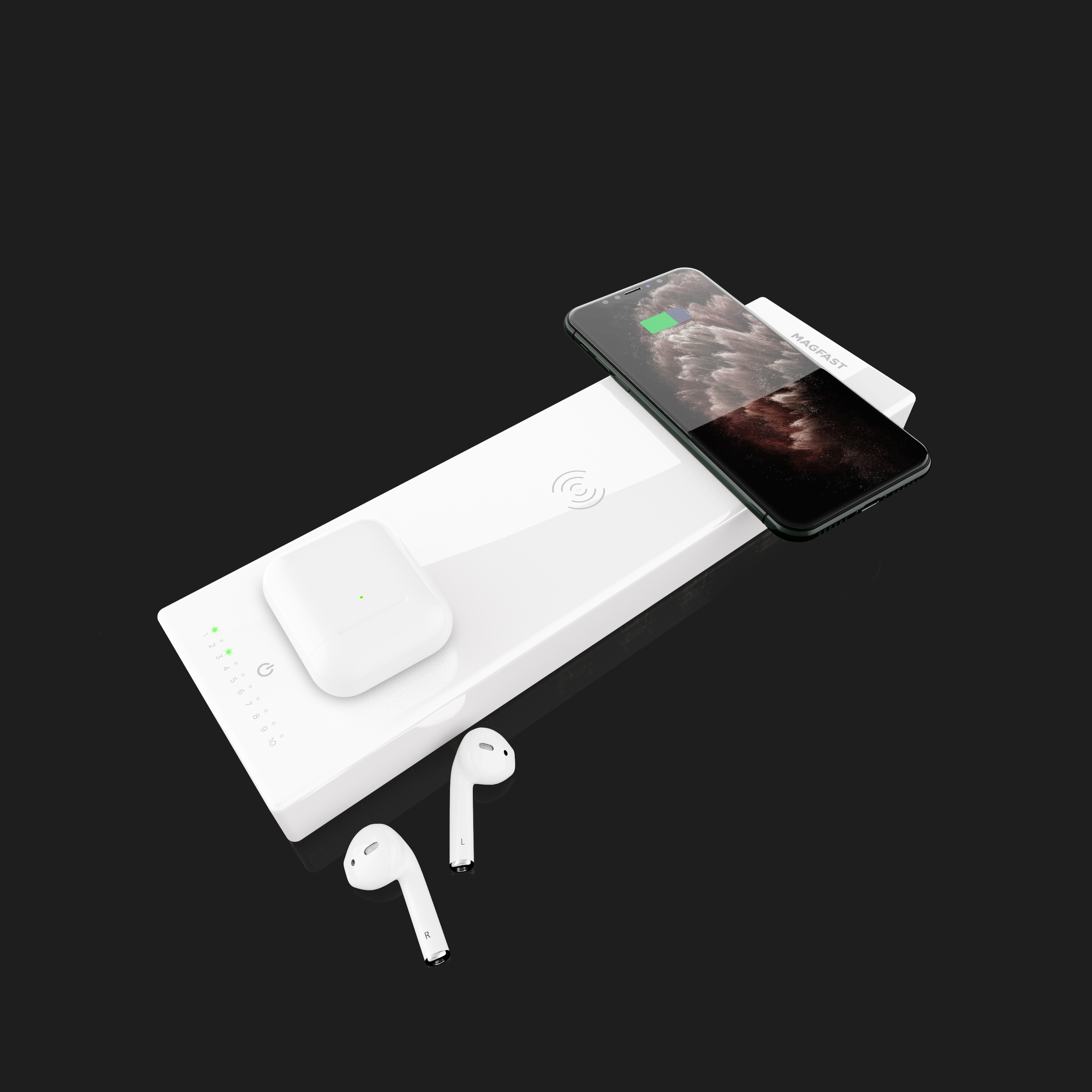 Qi Wireless: Extreme is the only charger with three Qi wireless charging ports across the top. These ports will automatically deliver 5W, 7.5W (Apple) and 10W to each mobile device. That could be three phones all charging at 10W each, simultaneously. And that's unprecedented!
USB-A: In addition, Extreme has three more USB-A charging ports. USB-A is the universal charging standard that we've all been using for over a decade. Your USB-A devices can share up to an additional 20W between them.
USB-C: Extreme supports USB-C, the powerful, versatile new standard. USB-C is the charging port you need for Power Delivery (PD). Extreme's USB-C ports will deliver up to 18W each.
MAGFAST: Remember also that every MAGFAST device can charge or be charged in a snap by any other MAGFAST device. Snap one charger onto another - the magnets will automatically pull the two devices together and align them correctly. You're instantly charging at 10W.
12V: This is the dedicated high-amp port, always ready if you need it, to jump-start your car.
Extreme will charge most, maybe all of the USB devices you've bought over the past 10 years, and will continue to charge those you buy in the next 10.
🗸Wireless: Extreme will charge all Qi-compliant wireless devices and all devices with a USB charging port, except a handful that don't comply with charging standards.
🗸Modern Apple, Android and other devices with Qi wireless: Most modern phones support Qi wireless charging, the standard adopted by Apple, Google, Samsung, LG, Microsoft, and BlackBerry among others. Your Extreme can charge three devices with Qi wireless simultaneously.
🗸Modern Apple, Android and other devices with USB-C: Almost all modern Android phones and tablets use USB-C. Apple has made the switch to USB-C for laptops and will likely soon make the switch for iPhones, iPods and iPads. You have two choices for USB-C devices: A USB-A to USB-C cable will work just fine, but will charge more slowly if you are charging more than one device at the same time. A USB-C to USB-C cable will give you fast charging up to 18W on each of Extreme's two USB-C charging ports.
Laptops supporting USB-C are likely to charge slowly: A small tablet/laptop hybrid such as Microsoft's Surface will draw around 44W. Larger laptops might draw 60W or more. If you have forgotten to bring the laptop charger with you, Extreme can stand in to top off your laptop or to provide an overnight slow 'trickle' charge with your Extreme plugged into a wall charger.
🗸Android and other devices with Mini USB: This was a big standard for small devices from 2000 to about 2010. If you have an old Mini USB device, all you will need is a USB-A to Mini USB cable, and you're charging. Your device came with the right cable, and replacement cables are plentiful and cheap.
🗸Android, Amazon and other devices with Micro USB: Older Android phones and today's Amazon devices (including Kindle and Echo) use Micro USB which officially replaced Mini USB in 2007. All you will need to charge your Micro USB device is a widely available USB-A to Micro USB cable.
🗸Apple devices with Lightning: Apple's Lightning standard is used on iPhones, iPads, iPods and some other Apple products like the Magic Keyboard and Magic Mouse. All you need is a USB-A to Lightning cable (available from Apple and many other manufacturers). If you buy a cable made by someone other than Apple, it's a good idea to check that it's MFi-certified. MFi is Apple's Made for iPhone/iPod/iPad program, and MFi-certification is a reasonable indicator of quality.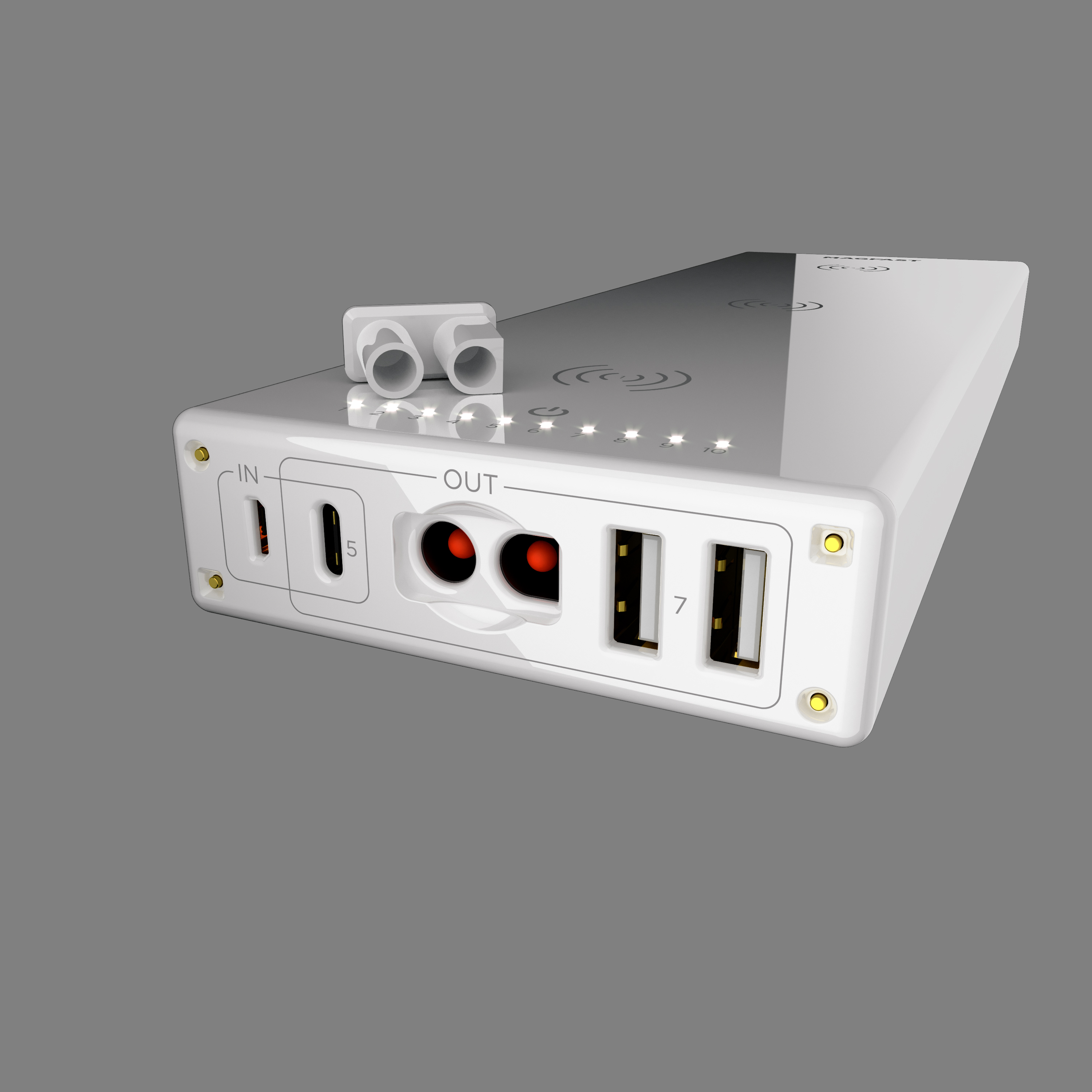 Extreme supports fast charging for all Power-Delivery (PD)-compliant phones and tablets.
The fastest way to charge your phone or tablet is via the two USB-C ports on your Extreme. You can charge using both ports at the same time, and each will separately deliver 18W. You will also be able to trickle (slow)-charge your laptop; laptops require much more power than a phone or a tablet.
You can also fast charge phones and tablets using the three USB-A ports. USB-A will charge a single device up to 20W, but you cut the output in half if you charge two devices simultaneously. (Unlike USB-C, these ports do not have a separate charging circuit per charging port).
The three Qi wireless ports will charge at 7.5W or 10W - the maximum certified for Qi), and you can charge three devices simultaneously at full power!
Google recently announced that they won't certify Android phones that don't meet the PD standards, so we don't expect that these non-standard standards will likely be around for long.
Even so, a handful of Android manufacturers including Huawei and Oppo/OnePlus have developed their own fast charging standards, up to 45W. The chargers are proprietary (read not standard, not PD-compliant). We charge these phones just fine within the PD standard up to 18W but if you really need faster (you rarely do!) then you must use a charger from the device's manufacturer.
Extreme will ship with a 15,000 mAh battery. This battery is very special. We could have squeezed in more capacity - and we originally planned to do so - but the advanced battery we've selected is truly amazing: holds a big charge and can also pump out the amps, which means the ability to jump-start a car.
The result is an extraordinary combination: true flexibility combined with amazing capacity. A surge of power when you need it, plus the capacity to charge an 11-inch iPad Pro a couple of times or a large cell phone (think iPhone 11 Pro or Galaxy S10+) up to four times. Power on demand plus the capacity to charge your smaller Android or iPhone about five times or your Apple Watch nearly 50 times!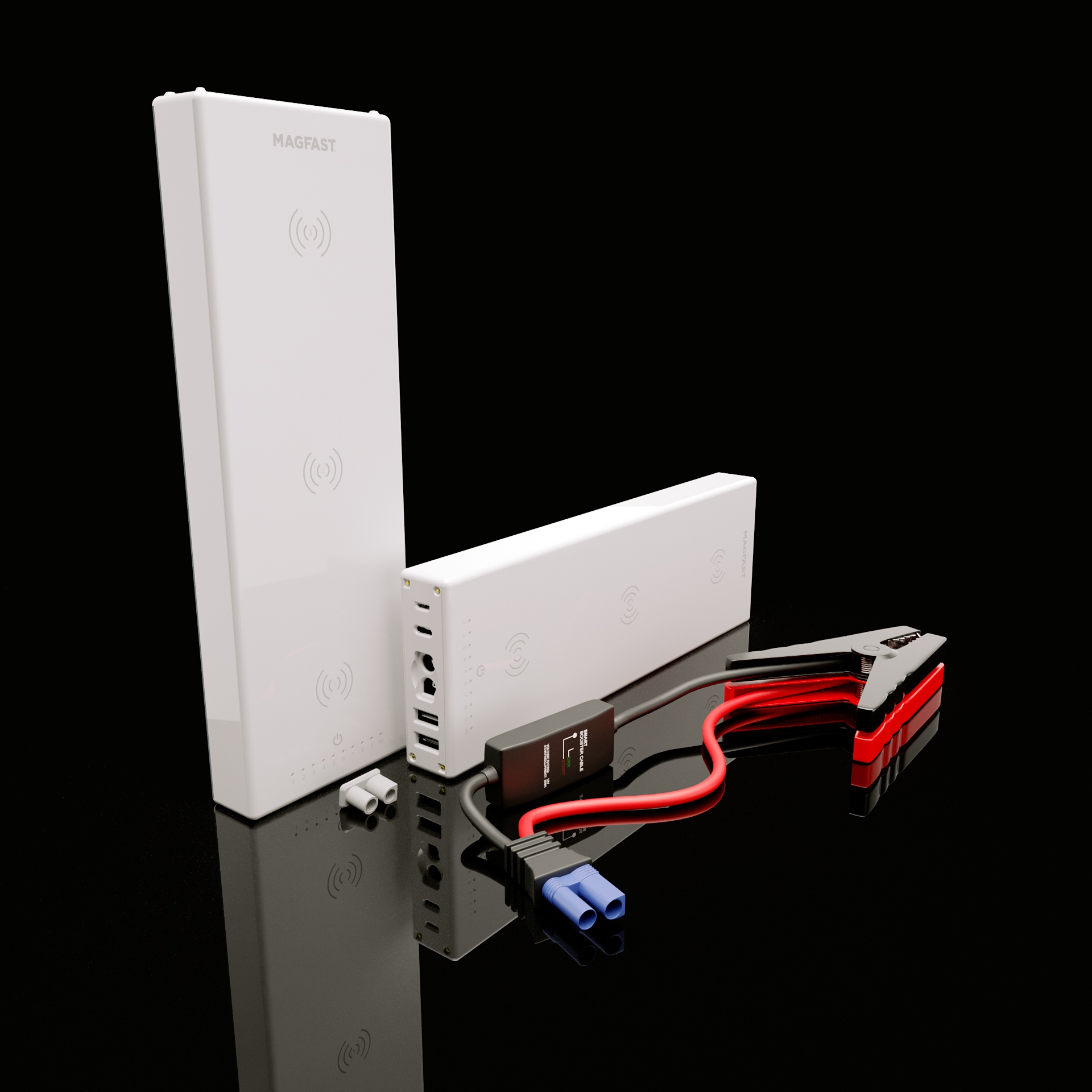 Will Extreme really jump-start my car?
Yes, MAGFAST Extreme really will jump-start your car. Not just once, but up to 25 times on a single charge.
The MAGFAST battery is specially constructed to deliver huge current for a short period. You'll need to add the accessory jumper cables: tuck them away neatly in your glove box.
As long as your Extreme has a 75%+ charge, it has the power to jump-start multiple vehicles, each with a 5.4L engine.